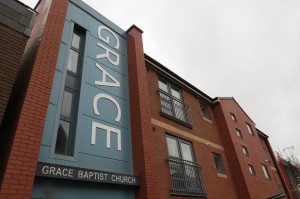 You can't miss us!
If you have ever tried to visit us at Grace Baptist in Southport, you may well have been one of the many who struggled to find the entrance to our church building. Well, you can't miss us now! We have just had a new sign installed, huge letters with the word GRACE, right above our front door. If you now drive up Market Street, there we are, just under Grace.
And something else you might have missed recently, amid all the busyness and rush of the season, is this: what is Christmas really about? It's great for those who can spend time with family, enjoying games with the children, catching up with friends and relatives. But the real point is this: that God loves us so much, that he sent his only Son into our world to be our Saviour. That's what Christmas is all about – God's love for you.
So, if you have missed the reality of Christmas, look to Jesus, not as part of the nativity scene, but as your Saviour.
And if you have ever missed us at Grace, just look now for the big sign above our door.
You can't miss us!